Oil Painting
-> Giovanni Battista Tiepolo
Giovanni Battista Tiepolo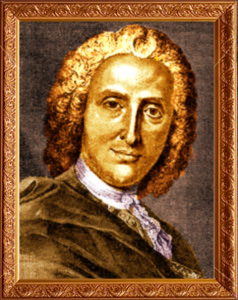 Giovanni Battista Tiepolo (March 5, 1696 - March 27, 1770) was a Venetian painter. His work was strongly influenced by the Venetian artist Paolo Veronese. In 1721 Tiepolo married Maria Cecilia Guardi, sister of the Venetian painters Francesco Guardi and Giovanni Antonio Guardi, by whom he had ten children. At least two of those children, Domenico and Lorenzo, worked with him as his assistants.
Life history
Early Life (1696-1726)
Tiepolo was born in Venice, the 6th and last child of sea-captain and marine merchant, Domenico Tiepolo, and Orsetta, who's maiden name is not known, the former of whom left him a considerable fortune.
The Tiepolo family is old and distinguished of Venetian patrician families, but Tiepolo's father did not claim noble lineage (though both Tiepolo and some of his siblings gained noble godparents). He was baptised Giovanni Battista, in honour of his godfather Giovanni Battista Dorià, a Venetian nobleman, in the local church and cathedral of Venice, S Pietro di Castello. His father Domenico died a year after his birth, and Orsetta was left to bring up all children in financially difficult circumstances.
He was the pupil of Gregorio Lazzarini, and in the same period he made careful study of the works of Titian, Piazzeta, Ricci, and especially Paolo Veronese. At merely 19, Tiepolo executed his first commission, the Sacrifice of Isaac, (which now lies the Venice collection). However, he left Lazzarini in 1717, and was received into the Fraglia guild.
In 1719, Tiepolo married the sister of the painters Francesco Guardi and Giovanni Antonio Guardi, Maria Cecilia Guardi, by whom he had nine children. Four daughters and three sons survived childhood, of which two of the latter (Domenico and Lorenzo) became painters and the other a priest.
Later life (1726-50)
The Friulan town of Udine played an important role in Tiepolo's formation. From 1726 to 1730 local Patriarch Dionisio Delfino lavished his praise upon the artist. His first major fresco commission for the chapel and palace of Udine (1726-28) was a landmark, with its new pale tonalities and airy handling. Incorporating Ricci's maniera paolesca, Tiepolo moved from the chiaroscuro typical of the Baroque, but keeping the theatrical grandeur of Rubens, Rembrandt and Durer. He was hence one of the fathers of the Rococo movement of the 18th century. Tiepolo's first masterpiece, arguably, was a cycle of enormous canvases painted to decorate a large reception room in the Ca' Dolfin, Venice (ca. 1726–29), depicting ancient battles and triumph.
With his prolific output, commissions poured in. Commissioners and private patrons demanded paintings, canvases for churches such as that of Verolanuova (1735-40),for the Scuola dei Carmini (1740-47), and the Scalzi 1743-44), ceilings for the Palazzi Archinto and Casati-Dugnani in Milan (1731), decorations of the Colleoni Chapel in Bergamo (1732-3), a ceiling for the Gesuati (S.Maria del Rosario) in Venice of St. Dominic Instituting the Rosary (1737-39), Palazzo Clerici, Milan (1740), decorations for Villa Cordellini, Montecchio Maggiore (1743-4) and for the saloon of Palazzo Labia, Venice, showing the Story of Cleopatra (1745-50).
Tiepolo's Apotheosis of Spain in the royal palace of Madrid[edit]
Recognition (1750-70)
By 1750 Tiepolo's reputation was firmly established throughout Europe, and accompanied by his son Giandomenico, he travelled to Würzburg at the call of Prince Bishop Karl Philipp von Greiffenklau in 1750, where he resided for three years. He executed magnificent ceiling paintings in the New Residenz palace. Among these is his painting for the grand staircase is the largest ceiling fresco in the world at 7287 square feet (677 m²), which was completed in collaboration with his sons, Giandomenico and Lorenzo.
Having completed his commissioned work in Würzburg, he was back again in Venice in 1753, where he was elected President of the Academy of Padua. In his absence, he was again inundated with commissions: theatrical frescoes for churches; the Triumph of Faith, in Venice, Chiesa della Pietà; frescos for palaces in Venice, Ca' Rezzonico; and paintings for patrician villas in the Venetian countryside, such as those in Villa Valmarana and Villa Pisani in Stra.
However in 1761 he travelled to Spain at the invitation of Charles III to execute the ceiling decoration for the throne room of the royal palace of Madrid, the subject of which, the Apotheosis of Spain. During his residence there he incurred the jealousy and the bitter opposition of Raphael Mengs.
Tiepolo died in Madrid on March 27, 1770. The slow rise of Neoclassicism had led to the slow decline of the career of Tiepolo, but had failed to dent his impact on artistic progress. By 1772 Tiepolo was sufficiently famous to be documented as painter to Doge Giovanni Cornaro, in charge of the decoration of Palazzo Mocenigo a San Polo.
Works
The stairwell at the New Residenz palace in Würzburg
The Allegory of the Planets and Continents at New ResidenzTiepolo was arguably the last of the great Venetian painters. As a draughtsman, colourist, and etcher, his works are magnificent in force, brilliance, and skill. He was also the first master of the Grand Manner. His work shows a masterful command of populated historical set-pieces, enveloped in a regal luminosity, and dressed in pompous arrays. He also brought art the oil sketch as an art form in itself.
He is principally known for his fresco work, particularly of ceilings. These attempted to open the closed space to the sky, with a view from below of vast compositions that merged with the delicate ornamentation of the Rococo architecture and sculpture. The earliest example of this is perhaps his canvases in the Ca' Dolfin, which allowed Tiepolo to introduce exuberant costumes, classical sculpture, and action that appears to spill from the frames into the room. Originally set into recesses, they were surrounded with frescoed frames.
His style is a distinct move from the Baroque, where dark, closed spaces illuminated with high contrast were popular; Tiepolo's work is typified with a daylight that illuminates the scene far more gently with a confident, sunny palette. This change can be actively viewed in the progression from his earlier works, which resembled more the former, dark and contrasting, to his later more famous works, in the style of the latter.
The composition of his work is influenced directly by the Baroque. Almost hundreds of figures take place in his canvas space, something that had been tended towards in the 17th century, but he again develops from earlier artists.
His use of perspective is especially notable, moving from the use of it in Baroque art as painters gained confidence with it, and noticeable in his ceiling frescos as a central theme. With these, such as those in Palazzo Labia, Venice, he collaborated with an expert in perspective, Girolamo Mengozzi Colonna. The fact that Colonna also designed sets for opera highlights the increasing tendency towards composition as a staged fiction.
His most famous frescos, indeed his works at the pinnacle of his artistic maturity, are those at Würzburg. His Allegory of the Planets and Continents depicts Apollo, embarking on his daily course; deities around him symbolize the planets; allegorical figures (on the cornice) represent the four continents, notably including America.